Joseph Brinton Lime Green, Gold, And Silver Earrings, French Hooks
$15.00
Description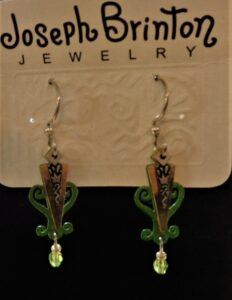 Check out this intriguing pair of Joseph Brinton earrings on sterling French hooks. For such a small earring, this pair boasts a complicated style. Made in three layers, the base layer is lime green, the next piece gold, and the last top piece black, with silver designs.
The lime green piece resembles a tall vase with a round handle on either side; curlicues at the bottom. From the base of the earring hangs a small lime-green stone.
The next layer is a gold metal, triangle-shaped, with the wide part at the top and the tip reaching to the base of the lime-green piece. Above this gold piece hangs an even smaller triangle, with black base and silver designs.
Ear wires are sterling silver hooks.
These small yet ornate earrings will dress up your ears, earning you compliments and admiration.
Only logged in customers who have purchased this product may leave a review.