Card Box, New Deck Of Cards, From Heartwood Creations
$19.00
Description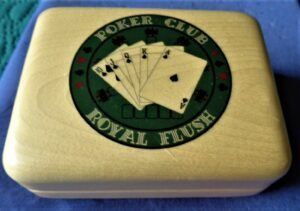 Are you a card player? If so, you might need this lovely little card box for carrying your winning deck of cards. In fact, a new deck of cards awaits you in the box, and perhaps you can imprint them with your winning wishes.
Made of fine maple, the lovely box has a design on the top on a dark green background, with a winning royal flush pictured.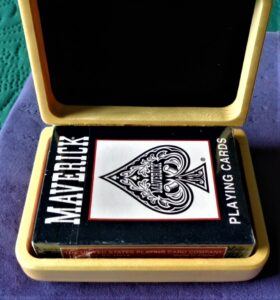 Rounded corners on the box have a very smooth finish. The hinges of the box are inset to prevent snagging, and to give an improved appearance. Inside, both the top and the bottom of the box are lined with black velvet.
The box measures 4-1/2 inches long by 3-1/2 inches wide, and 1-1/2 inch high.
Only logged in customers who have purchased this product may leave a review.