Attractive Necklace Of Black Beads, Featuring A Dreamcatcher
$8.00
Out of stock
Description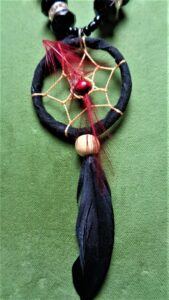 Wear this dramatic necklace to bring your dreams closer to your heart. A small black dreamcatcher with a red center bead adorns the base of this necklace. A wooden bead at the bottom holds to small black feathers in place.
The necklace itself starts with two strands of black beads on either side.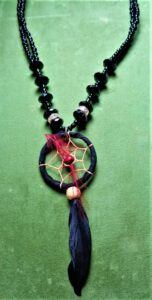 These become one strand, each side separated by faceted black beads, and finally attached to the dreamcatcher.
The necklace, from top clasp to dreamcatcher measures nine inches to a side, for an 18-inch necklace. The dreamcatcher at the bottom with its black feathers add 3-3/4 inches to the total length.
Only logged in customers who have purchased this product may leave a review.