8-Strand Paparazzi Beaded Necklace, Matching Earrings
$4.00
Description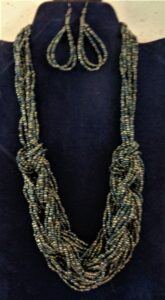 This necklace of eight strands of beads is braided together at the bottom to form a heavy, shimmery mass of tiny black beads interspersed with silver beads of the same size.
The bead braid continues from center front to half-way up the necklace. There, each side is knotted, and above the knot features eight strands of shimmery small beads. The earrings, on French hooks, are probably surgical steel. They are formed into double
loops, made from the same beads as the necklace.
This set, though taken in trade, is new. The loop earrings measure 1-3/4 inches long. The necklace length is 21 inches. This set is suitable for casual or dressy wear.
Only logged in customers who have purchased this product may leave a review.