Boma Jewelry Sterling Pendant, 18″ Long, Two Inch Extenders
$18.00
Description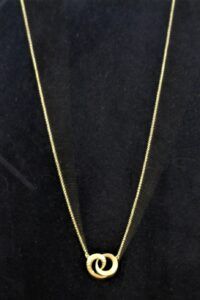 Presenting an interesting silver pendant from Boma Jewelry in Washington. The chain is a fine box chain, which attaches to either side of the centerpiece. This chain measures 18 inches long, and adds two inch-long extenders at one end of the chain.
At the center are two narrow circles of silver. One has a smooth matte finish. The second, partial circle loops through the smooth piece, and has a shiny, pounded silver finish. The circles create a very attractive and dainty necklace.
The centerpiece of silver circles measures 3/4 inch long by 1/2 inch high
Only logged in customers who have purchased this product may leave a review.