Sterling Earrings From Tomas Jewelry, Sterling French Hooks
$12.00
Description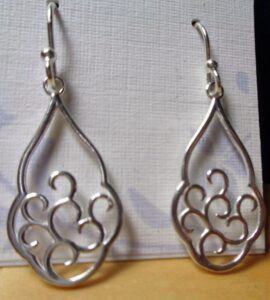 These all-silver earrings consist of a frame of silver wire and an interior design made of silver loops, creating a filigree effect.
Though simple earrings, they form a timeless design of sterling, suitable for many occasions, either casual or more elegant.
The earrings measure one inch long by 1/2 inch wide at their widest point. They have been marked down from a retail of $16.00 to $12.00 for the pair.
Only logged in customers who have purchased this product may leave a review.