Small Oval Signed Sterling Earrings, European Ear Wires
$7.00
Out of stock
Description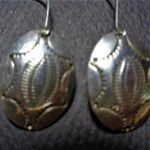 These small oval earrings are embossed with an Indian-style design. They are light-weight and fasten to the ears with the European-style locking ear wire.
Small initials appear on the back of the earrings, plus you will see the word "sterling" also stamped on the back as well. The oval measures 3/4 inch from top to bottom and 1/2 inch wide.
Only logged in customers who have purchased this product may leave a review.