Small Leaping Silver Fish Post Earrings
$5.00
Description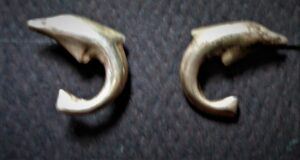 These tiny fish would love to leap onto your ears to brighten your day. They are small enough to wear when you want to limit your jewelry to something unobtrusive, and yet their design makes them stand out.
Silver can be worn with just about everything. Make a statement in a soft voice with these charming creatures.
I looked carefully on the back with my jeweler's loupe, but could find no sterling mark. They do shine up pretty well on the front, though.
These small delectable creatures measure 1/4 inch long. Since the tail curves, the width can vary.
Only logged in customers who have purchased this product may leave a review.