Siwa Shell Pendant Set In Sterling, Granulated Silver-Work
$21.00
Out of stock
Description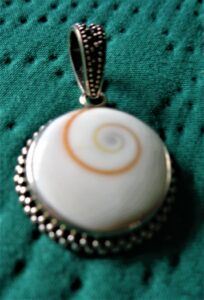 This lovely Siwa shell pendant gives you a piece of ancient history that you can wear on a chain. The pendant is formed from a shell that has the appearance of a fine spiral of golden color across its white face.
This shell comes from a desert area that was once under water —  perhaps Egypt.
The shell is also called the Shiva shell, and has important meanings attributed to it. Also called Pacific Cat's Eye, it is believed to open the third eye chakra, which mutes negative energy. It is a transforming piece that can help the wearer find a new path in life.
This Siwa shell is set in a sterling bezel that has two rows of small silver drops around its outside edge. The bale at the top allows plenty of room for a chain or cord, and features a design of two rows of small granulated silver drops around its outer edge.
From the top of the bale to the base of the pendant measures 1-3/4 inches high. The shell in its silver finding measures 3/4 inch across.
Only logged in customers who have purchased this product may leave a review.