Rare Pietersite Pendant, Outstanding Granulated Silver Bezel
$75.00
Description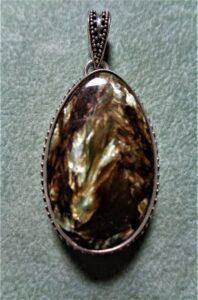 Pietersite, not your ordinary stone, is a rare aggregate comprised mostly of hawk's eye and tiger's eye. The color can range from blue-grey to brown and yellow.
This example is comprised of only the brown and yellow colors. The large teardrop-shaped pendant was made in Indonesia, as evidenced by the elaborate granulated silver work on bezel and bale. These set this handsome stone off very well.
The pendant measures 1-1/2 inches long from the base of the bale to the base of the pendant. The width measures 3/4 inch at the widest. The pendant also measures 3/8 inch deep to show off the silverwork, and the back is open, allowing the stone to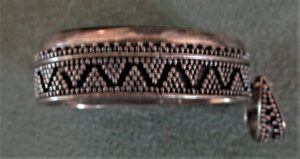 breathe.
The bale is of ample size to hold a chain or a substantial cord. Total length from top of bale to base of pendant is  two inches.
Only logged in customers who have purchased this product may leave a review.