Rare Dominican Republic Larimar Pendant Set In Sterling
$59.00
Description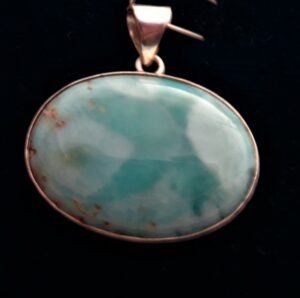 Gazing into such stones triggers the imagination. To me, this stone's design reminds me of new land forms emerging from a blue-green  ocean. Its soft blue and green colors create a cool, classic kind of look.
Larimar is found in only a few places in the world. In the Dominican Republic, it is located inside the cone of an extinct volcano. Its soft blues and greens seem soothing.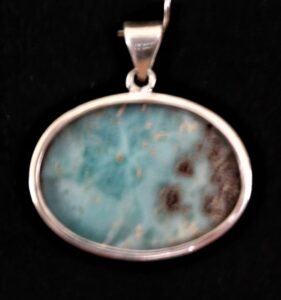 The silver framework of the setting forms a narrow band around the stone, leaving the back open. At the top is a generous-sized plain sterling bale, large enough for a heavy chain or a cord.
This stone is set longways in its bezel. It measures 1-1/4 inches wide and one inch high, without the bale. Full length with the bale is 1-1/2 inches high.
Only logged in customers who have purchased this product may leave a review.