Prehnite And Amethyst Dramatic Earrings Set In Sterling
$55.00
Description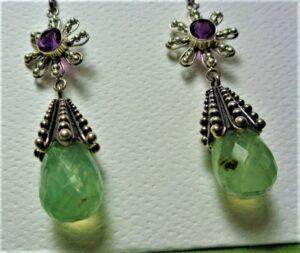 Make a bold statement with these elaborately-styled, unusual earrings.
At the top, the earring hangs from long French hooks of surgical steel, good for you if you have an allergy to  nickel.
The earrings themselves are set in sterling. Just below the ear wires is an eight-pointed flower-shaped setting, with a round amethyst stone in the center.
The "flower" petals are formed of fine looped silver wire encasing a vertical row of three small silver dots. The stone itself is set in a smooth bezel at the center of the silver flower.
Two small loops attach this top piece to the base. This lower part features a cone-shaped finding that has been oxidized; then seven rows of seven small silver beads are set vertically on the oxidized base.
This elaborate "cap" holds a substantial stone of prehnite with multiple facets. The combination and the silver work presents a very striking appearance.
The total length of the earring from the point where it attaches to the ear wire is 1-5/8 inches long. The flower at the top measures 9/16 inch across, with 3/16 of that being the amethyst stone.
The  "cap" holding the prehnite is 1/2 inch high, and the prehnite itself adds another 1/2 inch, making the bottom piece one inch long.
Select these earrings only if you wish to be noticed, as they will help you stand out in a crowd.
Only logged in customers who have purchased this product may leave a review.