Posts From Tomas Jewelry Set In Sterling; Swarovsky Crystals
$9.00
Description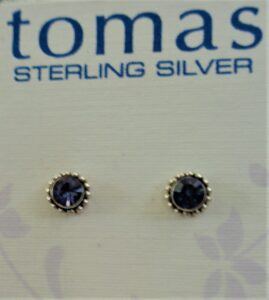 These small posts set in sterling silver feature Swarovski crystals in a deep bluish-purple color, reminiscent of iolite.
Around the crystal, which is faceted, is an edge of tiny silver balls in the granulated silver technique. The tiny balls surrounding the silver bezel sets the purple crystals off very nicely, and gives the earring a clean and well-finished look.
Only logged in customers who have purchased this product may leave a review.