Pink House Necklace With Mesh Chain, Handmade In India
$11.00
Description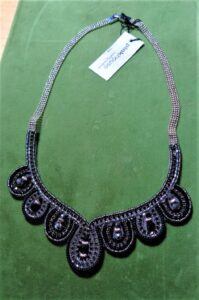 Pink House in California furnished this necklace and the matching earrings, also listed on this site. These sparkly pieces were  hand-made in India. Though they look like they might be heavy, the pieces are actually quite light, as they are backed with leather, rather than metal.
The necklace, set with black and silver beads, has a striking appearance, lying close to the neck in a scalloped pattern. A large flat loop of beads forms the center of the necklace, with three smaller half-circles on each side. Rows of black and silver beads form the edges of the scalloped pieces, and a faceted black or silver bead form a focal point in each scalloped section.
Above the black and silver center scalloped section is a flat, webbed chain, formed by four rows of tiny silver beads. The whole necklace sparkles when light hits it.
This necklace is 18 inches long. The scalloped beads at the front and center do not move around, but are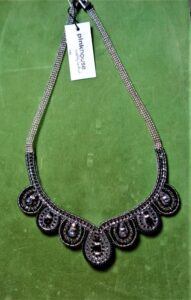 made of one continuous piece. This one offers a fine way to dress up a severe outfit.
Only logged in customers who have purchased this product may leave a review.