Pink House Adjustable Beaded Bracelet, Pink, White, Grey
$9.00
Description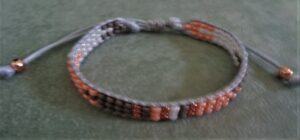 These little Pink House bracelets are so cool! Pick up a couple of them and mix and match the colors. In this one, the prominent colors are pink, grey, and white, with a few gold accent beads added to the mix.
Adjustable to fit a child's wrist or an adult's, these comfortable little bracelets might be the kind you put on and never take off. The bracelet will expand to 10 inches to make fitting to your wrist easier.
This one might be just your colors — or select it for a friend.

Only logged in customers who have purchased this product may leave a review.