Necklace Of Silver-Colored Coin-like Discs; Matching Earrings
$4.00
Description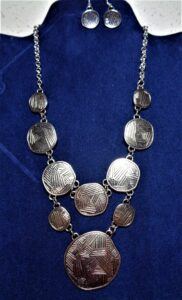 Here you will see another new Paparazzi set with necklace and earrings, versatile because of the silver, relatively plain design. The necklace features one long chain of the silver coin-like pieces with a pattern of short lines meeting at irregular intervals on the surface of the silver piece.
The largest "coin" is set at the bottom center front. Above it are two smaller "coins," and above that, three intermediate-sized pieces which join in a line across the center of the necklace. Above this row of three, attached to the main chain on either side, are two more "coins," an intermediate size and a small one.
Continuing up from these silver circular pieces is a linked double chain of silver loops. Attached at the end is a 2-1/2 inch necklace extender, if you wish the necklace longer.
The earrings consist of one of the small coins hanging from a French hook, and I am guessing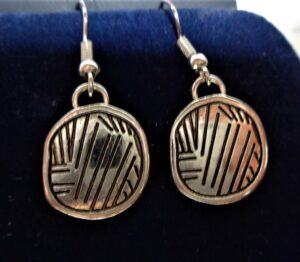 they are surgical steel.
Though not expensive materials, this set would look good on many outfits. Though taken in trade, this set is new.
Only logged in customers who have purchased this product may leave a review.