You cannot add "Unique French Hoop Earrings With Abalone Chunk On Silver Wire Circle" to the cart because the product is out of stock.
Necklace Of Beads, Graduated Size, Perhaps Garnet
$5.00
Out of stock
Description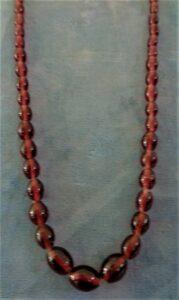 This lovely garnet-colored necklace measures 19 inches long. Bead size graduates from quite small close to the clasp to increasing size toward the center of the necklace. At the center point of the necklace you will see the three largest beads.
I have examined these beads carefully. They do have inclusions, but they appear to be air bubbles, causing me to believe the beads may be formed of synthetic material. However, I'm just not sure.
The color, however, is lovely, and would certainly dress up an outfit. The clasp is a screw-together gold finding, ensuring your necklace would not fall off.
Synthetic or genuine, this garnet necklace provides you with a bargain choice.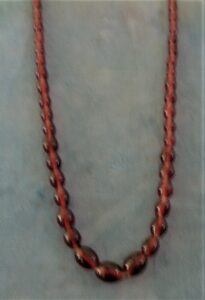 Only logged in customers who have purchased this product may leave a review.