Multicolored Post Earrings Hand-formed From Fimo Clay
$2.00
Description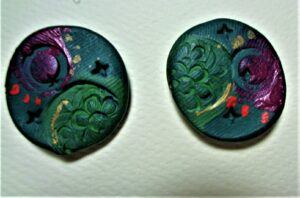 These post earrings are hand-formed from fimo clay, and feature a dark-green background and a purple flower design with some small accents of orange, gold, and black mixed in. I do love the color, as dark green is a favorite.
The posts are surgical steel and fit close to the ears, thanks to the round disk backing on each earring.
These interesting round posts measure just under an inch across. Though clay, they feel pretty light, and I think they would be easy to wear.
Only logged in customers who have purchased this product may leave a review.