Mighty Moose Pin With Crystal-Studded Antlers, Enamel Finish
$11.00
Description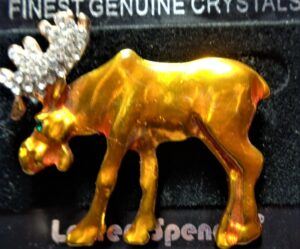 This large moose pin could adorn a variety of apparel — hats, coats, jackets, collars. He looks a bit friendlier than some of the moose who visit my house.
The bright golden finish of this pin contrasts nicely with the many small crystals set in his antlers. Because of the large size, the pin will show up nicely.
This pin measures two inches wide by 1-3/4 inches high (counting the antlers.) The pin back itself measures 1-1/4 inches long.
Wear this symbol of the Alaskan north with pride — this guy is an established member of the northern country.
Only logged in customers who have purchased this product may leave a review.