Lovely Lia Sophia Pendant: Brass Openwork, Citrine Rhinestones
$18.00
Description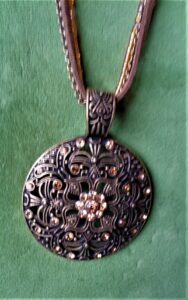 I had to search through pages of Lia Sophia designs from an EBay catalog to locate this one. Diligence pays off! From the description I learned that the round pendant and the beautifully decorated bale are brass. The openwork design of the pendant with flowers and curlicues, all with raised edges, give it a rich, ornate look.
Placed in a center circle resembling a blossom and in strategic spots over the surface of the piece are citrine rhinestones. Their color adds to the richness of the design.
The pendant with its elaborate brass bale hang from a "necklace" which consists of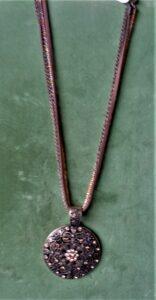 four strands: A narrow leather piece, two bronze chains, one a larger size than the other, and a string of seed beads which reflect the colors of the necklace.
These four pieces attach to a necklace extender of brass loops. The extender measures 3-1/2 inches long, and the four strands, from extender to pendant, measure eight inches on either side, or sixteen inches in total length. Add the extender to add a couple more inches.
The brass medallion at the end measures two inches in diameter. From the top of the bale to the brass of the medallion measures 2-1/2 inches.
I've put a price of $18.00 on this one. The one I found on EBay was twice that. Buy here for a true bargain.
This piece would gain you many compliments. If you buy it, I will be the first to tell you how lovely it is.
Only logged in customers who have purchased this product may leave a review.