Lime Green And Turquoise Stacked Stones, French Hook Wires
$3.00
Description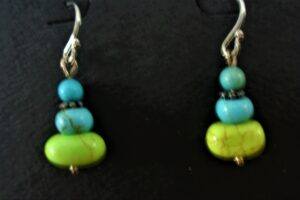 These earrings are formed by three stacked round stones in graduated sizes. Between the first and second bead is a small metal disk with rounded edges.
The first and second stones are turquoise. The third, largest piece on the bottom is a lime-green color, and I do not know what it is. It's a natural stone, as you can see some of the matrix to which the stone was once attached.
The ear wires are surgical steel. The earrings are 5/8 inch long. They may be just what you have been looking for to match a specific outfit.
Only logged in customers who have purchased this product may leave a review.