Holly Yashi "Simone" Earrings, Niobium With A Gold-fill Overlay
$26.00
Out of stock
Description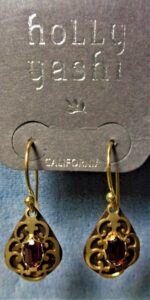 From the studio of Holly Yashi comes this small pair of very attractive teardrop-shaped overlay earrings. The base layer is niobium, tinted a purple color. An ornate, scroll-work design in gold fill rests on top. In the center of the earring is set a small, elongated and raised wine-colored garnet.
The wires of these elaborately-designed earrings are gold fill. These small earrings measure 3/4 inch from top to bottom and 1/2 inch wide at their widest point.
From Holly Yashi's "Simone" earrings, these are part of the Timeless Romance collection. These earrings are both stylish and colorful. Treat yourself to a Holly Yashi moment.
Only logged in customers who have purchased this product may leave a review.