Holly Yashi Purple Niobium French Hook Earrings, Gold Birds
$23.00
Out of stock
Description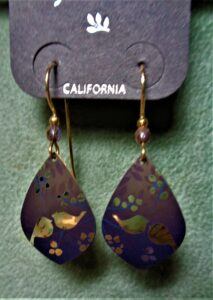 Holly Yashi brings you another of her classic niobium earring styles. These elongated teardrop-shaped French hooks create a background of deep purple and rust, overlaid with gold flowers and birds, and a few deep blue accents representing flower stems.
Simple yet dramatic, these earrings could well be just the pair you have been looking for.
The irregular teardrop shape comes to a point at the base, making these pieces resemble flower petals. The gold birds and flowers really stand out against the dark background.
Earring wires are gold-filled. A small purple bead adds an accent between the earwires and the niobium.
These earrings measure one inch long from where the wire joins the niobium to the earring base, and 9/16 inch wide at their widest point.
Only logged in customers who have purchased this product may leave a review.