Holly Yashi Pansy Post Earrings, Inspired By Nature Collection
$29.00
Out of stock
Description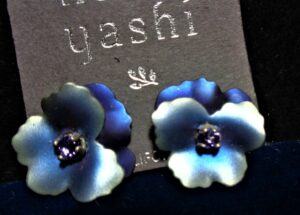 If you like post earrings, these beautiful pansies might be just the pair for you. They are made of niobium, with a Swarovski crystal center.
Holly Yashi calls niobium their signature metal, as they feel it is the perfect magic ingredient. It never tarnishes or fades; it is classified as a precious metal, rarer than gold, related to titanium, but more valuable.
To get the color and patterns on the metal, they use a process I like to call "metal batiking." The material is immersed in a salt bath and shot with voltage, creating a wide variety of colors.
These post earrings have gold-filled wires, and sturdy backs hold them tightly against your ears. They shade from deep blue colors to pale blue, almost silver at petal edges. They measure 1-1/8 inches long by 5/8 inch wide.
Think spring with these lovely blue flowers.
Only logged in customers who have purchased this product may leave a review.