Holly Yashi Niobium Long Earrings With Purple Flowers
$49.00
Out of stock
Description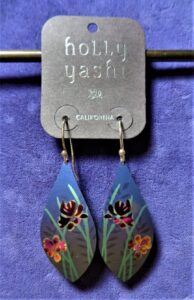 Here's that Holly Yashi look again — Lovely long tear-drop shaped earrings with a deep, night-time blue background, purple flowers and green leaves.
As with many of Holly's earrings, these large earrings with sterling French hooks add color and great design to complete your ensemble. The flowers of these are interesting, as they seem to have a separate shiny finish that really makes them stand out.
These earrings measure 1-1/2 inches long and 3/4 inch wide., When your friends compliment you on your earrings, please tell them you got them from Lucinda's Jewelry Boutique.
Only logged in customers who have purchased this product may leave a review.