Hinged Pendant With Turquoise And Amethyst Stones
$38.00
Description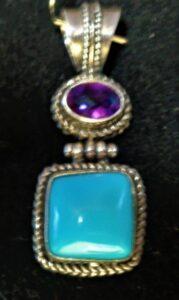 This small pendant makes a large impression. It is made in two parts. At the bottom is a square turquoise stone set in a bezel which rests on a platform of two rows of tiny twisted silver wires.
The back of the turquoise has been left open, allowing the stone to breathe. This turquoise piece is attached to a smaller top piece by a small silver hinge.
Above the hinge is an oval faceted amethyst stone, set in similar fashion in its silver bezel, and also open at the back.
Above the stones is a generous-sized silver bale for chain or cord, and adorned at its center with yet again two rows of tiny silver dots.
This very attractive piece measures 1-3/8 inches long from the top of the bale to the base of the turquoise. At the widest point it measures 1/2 inch wide. The turquoise stone measures 3/8 inch wide. The oval amethyst, set lengthwise, measures 1/4 inch long.
Only logged in customers who have purchased this product may leave a review.