Hand-Cut Balinesian Jasper Tongue Pendant From Batu Belig
$79.00
Description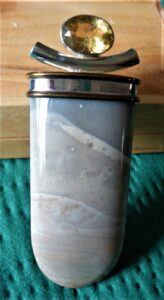 This highly-polished tongue pendant of Balinesian jasper comes from the village of Batu Belig, which is located near Kerobokan, Bali.
The pendant, smooth and beautifully finished, was mined near the village. The bezel was also made in the same village. It features a sterling cap for the stone, finished at the top and bottom of the bezel with a heavy bronze wire.
Above the curved tube designed to hold the chain is a large, faceted stone of citrine. The back of the stone, also in a silver bezel, was kept open so the stone can breathe.
This pendant measures three inches long from the top of the stone to the bottom tip of the pendant. At its widest point, it measures 1-1/8 inches wide.
The frothy, cloudy design of the stone triggers the imagination. To me it looks like foam at the edge of a sandy beach.
Only logged in customers who have purchased this product may leave a review.