Hand-Crafted Copper Bear Pendant by John Rose, Montana
$13.00
Out of stock
Description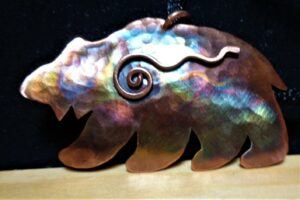 Here is yet another hand creation from Montana artist, John Rose. A copper ring on the bear's back serves as a bale for the black cord that comes with the necklace. If you wish a longer cord or if you'd prefer a chain, just replace the cord.
At present, the necklace measures 16 inches long. The copper braising picks up colors ranging from green to gold to blue to copper. It's a very attractive finish for a bear to have.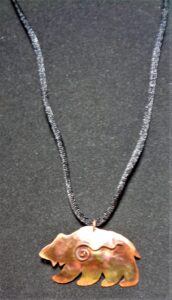 The bear itself measures 2-1/4 inches long by 1-1/4 inches wide. Wear this pendant to commemorate this large member of Mother Nature's animal farm.
Only logged in customers who have purchased this product may leave a review.