From Boma, Silver Teardrop Earrings, Intricate Loop Pattern
$20.00
Description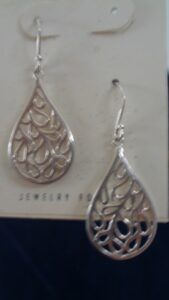 Boma Jewelry in Washington has created these lovely teardrop-shaped earrings with a pattern of many loops covering its surface. Almost like lace, fine silver wire creates a lattice-like openwork design that requires no stone to enhance its appearance. The sterling silver and the pattern are enough.
"Boma" and "925" are stamped on the back, in letters so small it was hard to see even with my loupe, but it is there.
These light-weight earrings hang from silver wires. From the top where the wire attaches to the base of the teardrop measures one inch long. At the widest point of the teardrop, it measures 1/2 inch wide.
Only logged in customers who have purchased this product may leave a review.