Earrings On French Wires, Large Garnet; Small Larimar
$40.00
Description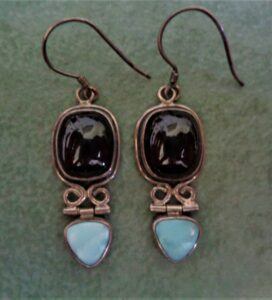 These earrings feature a unique combination of garnet and larimar. The large rectangular garnets set in plain silver bezels reside at the top of the earring.
To get the color of the garnet to show up, we took pictures with a light behind the earrings, so you could see the red color. Without light traveling through the stone, it looks dark; the red does not show.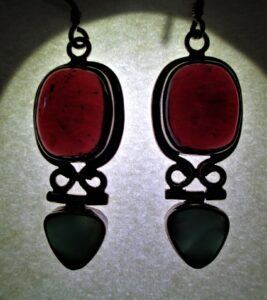 Below the garnet, two spirals of silver rest side by side and attach to a small silver hinge. Below the hinge, also in a plain silver bezel, is a small triangular-shaped piece of larimar, set with the point down.
Total length of the earring measures 1-1/8 inches long. The garnet rectangular stone, including the bezel, measires 5/8 inch high by 1/2 inch wide. The larimar triangle measures 5/16 inch on each side.
Only logged in customers who have purchased this product may leave a review.