Earrings Formed Of Sterling Silver Blocks In A Diamond Shape, French Hooks
$5.00
Description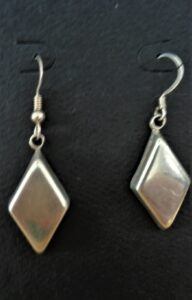 These unusual earrings are made from blocks of sterling silver cut in a diamond shape. They hang from sterling French hooks. The earrings have no design on them, but are formed of smooth silver pieces that shine like the moon.
Though a conservative design, they are quite elegant. The would go with most any colors. You could consider them dressy, yet plain.
The diamond shape measures one inch long by 1/2 inch wide. The solid silver piece measures 3/16 inch thick.
Only logged in customers who have purchased this product may leave a review.