Comfortable Elastic-Linked Bone Bracelet, Simple Design
$15.00
Description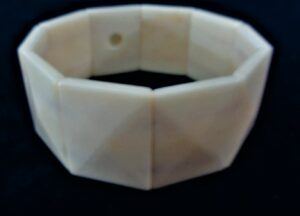 Looking for a simple, classic design that will blend with many garments? This ivory-colored linked bone bracelet might be just what you need.
The bracelet is formed of squares of bone that measure one inch high by 3/4 inch wide. I have no idea what kind of bone it's made of, and, no, I know it is bone, and not ivory.
The sections are very smooth, but formed with a raised "X" design that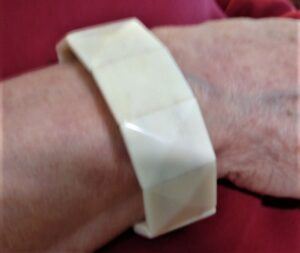 reaches from the top of each corner of the square to its base. The bracelet sections are smooth and flat on the inside for wearing comfort.
The circumference of the bracelet is 8-1/4 inches, allowing plenty of room for the bracelet to slide over your hand but still feel good on your arm.
Only logged in customers who have purchased this product may leave a review.