Cast Silver Alaska Salmon Ring, Size 9-1/2, From Metal Arts
$47.00
Description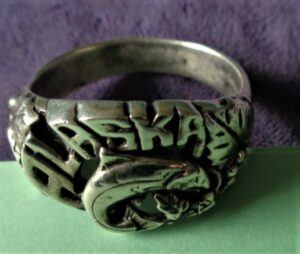 Perhaps you would not want to wear a bear on your finger. Perhaps you are a fisherman, and an Alaskan genuine silver salmon appeals to you more. In the boutique, you have a choice.
This ring, created from a silver casting, carries a sterling stamp inside the band. It's the same size as the bear ring also shown here — a 9-1/2 — so, if it fits, it's great buy. Better get it now. Its original retail was $90.00 but you can buy it in the boutique for $47.00.
This one also carries the word "Alaska" on the front, but you get the silver salmon instead of the bear. Your preference.
Only logged in customers who have purchased this product may leave a review.