Black, Pink, And Grey Beaded Bracelet From Pink House, CA
$9.00
Description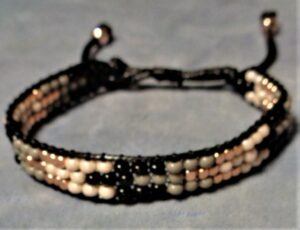 Check out this striking beaded bracelet, which includes black, grey, pink, and copper-colored beads. As with all the Pink House beaded bracelets, the slip-knot clasp allows you to adjust this bracelet to fit your wrist exactly. It will expand to ten inches, allowing it to slip on and off your wrist easily.
A black edging on the bracelet emphasizes the black beads, helping  that color to stand out. The colors blend beautifully. This bracelet measures 3/8 inch wide.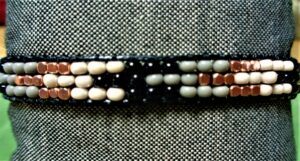 Select for yourself or as a fine gift.
Only logged in customers who have purchased this product may leave a review.