Sale!
Bear Trax Sterling Earrings Designed By Kathleen Faulkner
Description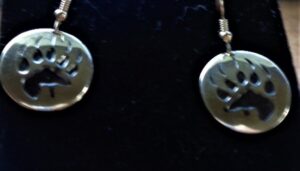 These sterling earrings are very special ones. They were made at Metal Arts Group, who created "culturally inspired jewelry." The artist: Kathleen Faulkner.
For many years, Metal Arts Group has created wonderful pieces — reproductions of original work by Northwest Coast artists, and so correct in every detail that many carry the author's signature.
Metal Arts Group and their predecessor, West Earth, have been among my top suppliers for nearly 50 years. Their recent announcement that they have closed their doors saddens me.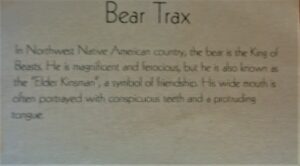 The two pieces from Metal Arts Group on here today represent a tiny portion of the wonderful work done by the Northwest Coast artists. As I have just a few pieces left, will be offering in the boutique upon occasion. Be watching for them.
The Bear Trax design was created by Kathleen Faulkner. She is an accomplished jewelry artist from Anacortes, Washington. Her bear trax idea received inspiration from the time she lived in wilderness Alaska.
Only logged in customers who have purchased this product may leave a review.