Bangle Bracelet Of Alpaca, Probably From Mexico
$3.00
Description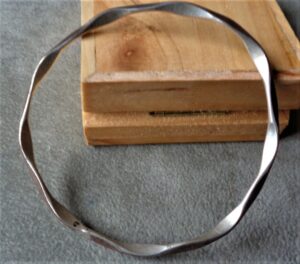 Here is another item taken in trade, but this one is not new. It's a silver bangle braceet. I'm guessing it is alpaca and made in Mexico, as I had some alpaca bracelets in my shop exactly like this one, some years ago.
Alpaca comes from a Chinese formula of nickel silver, a type of copper allow containing nickel and zinc. It is also known as German silver. It is widely used in jewelry making in Mexico as well as in Central and South America.
This bracelet would work well by itself or with other bangles. It is strong and durable with an attractive design pattern. It's an average size, as I can get it on my 7-inch wrist.
As part of a collection of bangles or worn by itself, this one will serve you well and represents a great bargain.
Only logged in customers who have purchased this product may leave a review.