Antique Necklace, Pearls And Perhaps Bronze, Origin Unknown
$35.00
Description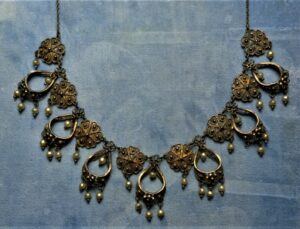 From an estate sale comes this attractive and unusual antique necklace. I've spent quite a bit of time researching, trying to find the origin of this piece.
I believe it's bronze, with small pearls attached. The large pieces remind me of fancy stirrups, with a six-sided flower-like star in between each of the bigger pieces.
It could probably clean up beautifully, but I'm not sure if it would affect the value. Therefore, I've left that task to be tackled by its new owner. It's actually rather lovely just the way it is, as it really gives the idea of age.
Eight of the flower stars separate the seven "stirrups." Every small piece of this necklace is still intact. The necklace measures 16 inches long. I've looked carefully with my jeweler's loupe and can find no marks.
If any of you can identify this piece, please let me know in the contact us section below this post. I'm thinking it may possibly be quite rare and valuable.
Only logged in customers who have purchased this product may leave a review.